Camera from "Plateia" Palaiochora
Camera owner :Notos Cars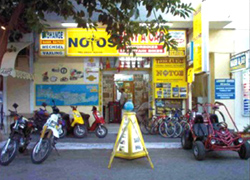 Our job is CAR RENTAL & MOTORBIKE RENTAL. Our aim is the best service to our customers, the cheapest offers and your satisfaction.
Since 1992 our office is in Paleochora. In the center of Paleochora's main street, exactly opposite of the town hall is our "yellow" office of Notos. The owners of Notos are Akis & Olga Tsiskakis. Together every summer work hard for the best of the office and their customers.
Our cars can be delivered to every airport or harbour of Crete you wish.
To convince you for our service we can only say that we do have many customers that comes every year since we opened. We are very proud of that.
Yours faithfully
Akis & Olga